FARMER TAKES THE DICKIES BRITISH SUPERSPORT VICTORY AS SEELEY TAKES THE FLAG at brands hatch
The Team Quattro Spirit bike of Alastair Seeley finished first on track ahead of former Champion Luke Stapleford, but with the Moto2 machines of Seeley and the Triumph of Stapleford not eligible for points, it was Keith Farmer on the Team Appleyard Macadam with Integro Yamaha who picked up maximum points.
Launching off pole, Seeley set fastest lap after fastest lap to cruise to victory by 7.094s. Unable to match the pace of Seeley, Stapleford had a lonely ride in second place, but there was intense action behind as Keith Farmer, Joe Francis and Matt Truelove fought for the podium throughout the ten-lap race.
Moving into the front on lap four after a great move around the outside at Clearways, Astro-TT Racing's Truelove was initially able to edge away from the pursuers, but a string of fast laps towards the end saw Farmer slip past on the penultimate lap and go on to claim the win. Joe Collier on the FAB Racing Speed Up Moto2 bike was fourth on track, but as this was another non-points scoring machine, it was Truelove who claimed second on the Supersport podium with Francis third.
Farmer's win has given him the Championship lead, 22 points ahead of Andrew Irwin, after Jack Kennedy was awarded the win from Snetterton and Andrew Irwin demoted to second.
Farmer 170
Mackenzie 150
Irwin 148
Allingham 145
Kennedy 132
The next round of the Dickies British Supersport Championship is at Thruxton – one of the fastest circuits on the British Superbike Championship calendar – from the 4th– 6th August.
For the full Dickies British Supersport Championship entry list go to: https://www.facebook.com/dickiesbsb/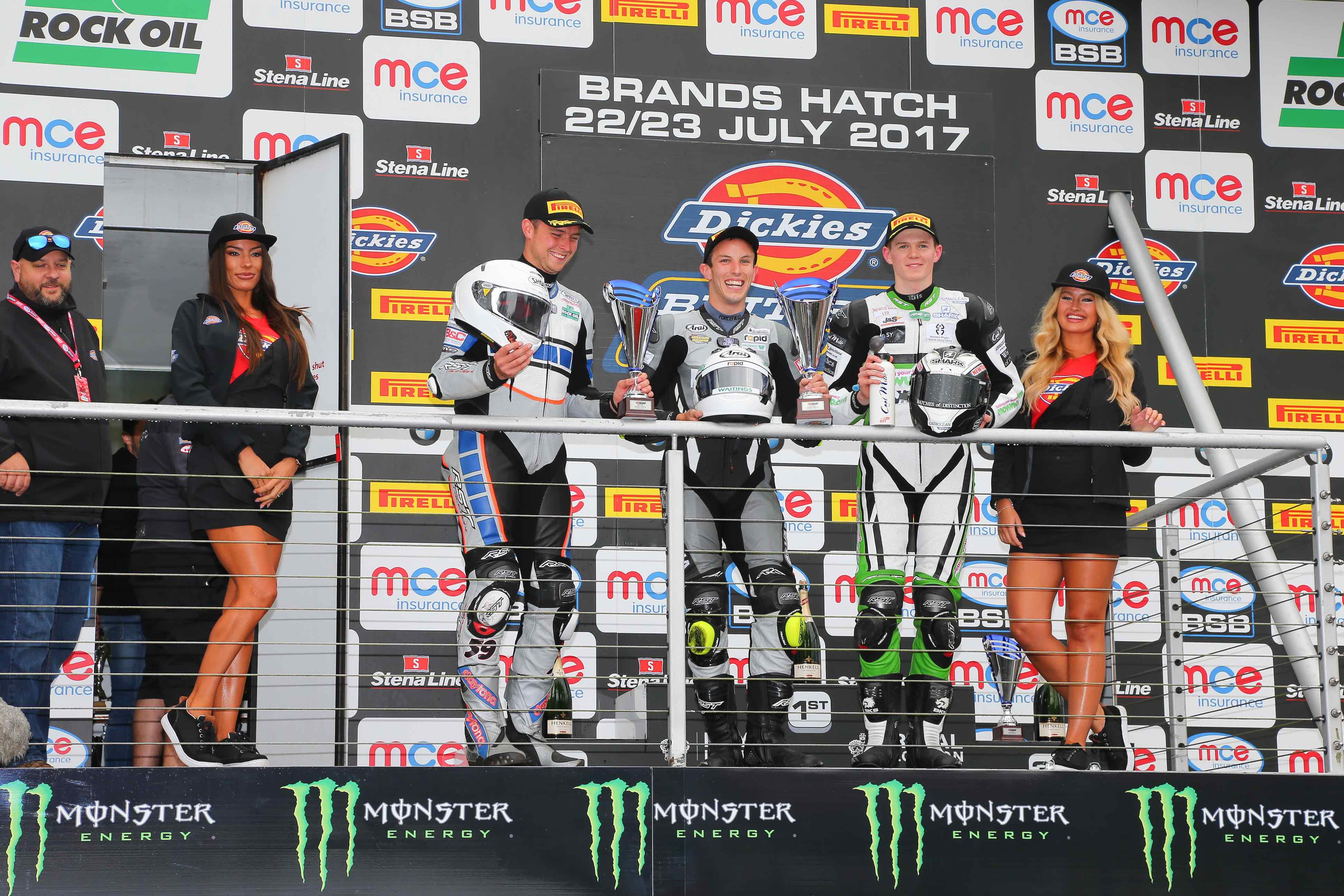 The Dickies Supersport Championship
Dickies will be displaying and selling a new range of workwear and streetwear from its stand at all BSB races this season, as well as a new range of Chris 'Stalker' Walker tee shirts and hoodies.
Dickies continue to support the BSB Package as associate sponsors and official workwear supplier and will again supply Racesafe marshals, the 'Dickies Orange Army', with high visibility, premium quality coveralls, in addition to media vests, technical and paramedic coveralls for the BSB championship officials.